ALUMINIUM SHUTTERS
TAKE THE BURN OUT OF SUMMER OUTDOOR LIVING!
Aluminium Shutters take the burn out of summer
With summer just around the corner we take a look at Aluminium Shutters and their suitability for our harsh conditions here in Brisbane.
Aluminium Shutters Take the Burn Out of Summer Outdoor Living
Summer is getting close, but can your home handle the heat?
Australians love the outdoors, especially during the Summer months. It's the time of year to kick back, relax and enjoy time spent with family and friends around a barbeque. But finding a balance between letting the natural world in and protecting your family from the harshest summer temperatures is the challenge which homeowners in Queensland know only too well.
Blockout fabric Awnings have traditionally been used for outdoor areas which are hit by direct afternoon sun, like decks and patios. However, Aluminium window shutters are growing in popularity, and not only because they can add a touch of modern style to your home.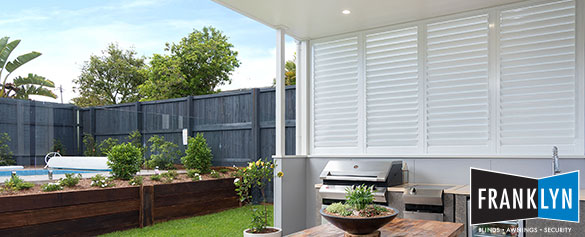 Outdoor Shutters offer a stylish solution to keeping outdoor areas cool in summer.
A recent study from The University of Newcastle School of Engineering compared the most popular types of window coverings, with thermal performance measured by the percentage of temperature difference achieved. The study tested a range of window covering types including shutters, blinds and curtains made from different materials including polystyrene, aluminium, basswood, thermo PVC and western red cedar. They found that shutters performed better than blockout blinds and curtains when comparing the temperature difference recorded over a 9 hour period, and more specifically Aluminium shutters created a space that was 27.5% cooler on average over the course of the test.
What this study really showed, was that shutters can play an important functional role in the home beyond their aesthetic appeal. Window shutters should be selected based on their ability to control the amount of light, air and heat in the home. These abilities determine the thermal performance of the shutter, which should be an important factor in the selection process given the rising energy costs in Australia and the need to create liveable outdoor spaces.
Coupled with their excellent heat control, Aluminium Shutters are the hardest wearing and most versatile exterior solution. They are lightweight yet incredibly strong. The louvres can be tilted to allow light through without compromising on privacy. They're also extremely easy to clean, as they just need to be hosed down and left to dry. Shutters can also protect an outdoor area from prevailing winds that might wreak havoc on your afternoon table spread.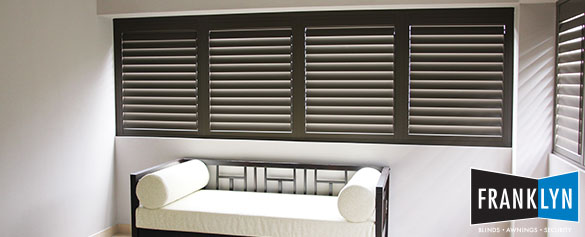 Shutter louvres can be rotated to protect against prevailing winds, while still allowing light to enter.
Aluminium shutters also represent a stylish design element that adds a sophisticated touch to any home. However, the wide choice of styles, materials and colours often makes decision-making difficult for designers and homeowners when selecting the most suitable shutter for their application.
One of the most frequently asked questions our staff encounter when it comes to shutters revolves around the opening mechanism. Here are four types of openings which can be fitted when installing Aluminium Shutters:
Fixed Opening
As the name suggests, fixed opening shutters have panels 'fixed' in place and cannot be opened. The louvres can still be rotated to allow airflow and light to enter your space when required.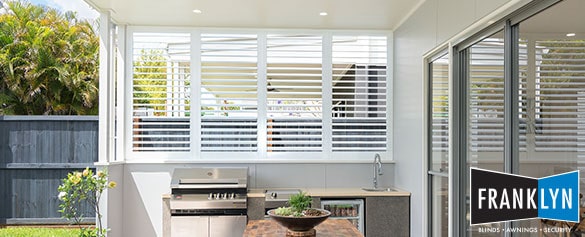 Fixed Opening Shutter system.
Hinged Opening
Hinged openings are fixed on one side of the shutter with a hinge, allowing the panels to be opened completely. The Shutters function the same way, by allowing louvres to be rotated for airflow and light protection.
Sliding Opening
 If the windows you are covering are shallow and space is at a premium, a sliding opening system could work for your space. Each shutter slides on a track system, allowing them to stack at each end of the window opening. While this will reduce the width of the window opening due to the shutters stacking at each end, it is perfect for longer and wider windows, and the shutter blades can still be rotated.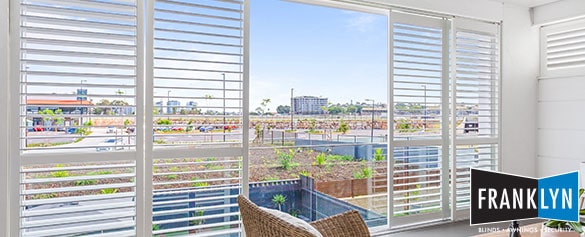 Sliding Opening Shutter system.
Bi-Fold Opening
Bi-Fold shutter opening systems allow you to maximise the window opening space, by folding the shutters on themselves with a typical bi-fold design. As with all Shutters, the louvres can be independently opened and closed, giving you more options for controlling light and wind conditions.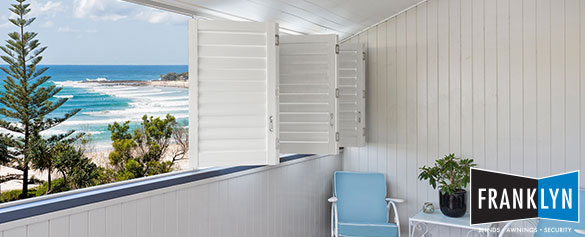 Bi-Fold Opening Shutter system.