IS YOUR HOME SECURE?
Add Value with Crimsafe Security Screens
INDOOR BLINDS:
YOUR QUESTIONS ANSWERED
Indoor Blinds: Your questions answered
With so many styles, colours and materials to choose from, making the right decision on which indoor blinds fit your home can be daunting. So we've put together some of our most frequently answered questions to help you out.
I need a decorative blind for our bedroom that still lets me control the amount of light and privacy. Can you help?
If light control and privacy is important then Roman Blinds are a great solution. Roman Blinds are a stylish and sophisticated window furnishing that make a fantastic room feature, and can be made using a blockout fabric, however, if complete light blockout isn't what you're looking for then you can simply select a lighter grade fabric to suit your desire. Depending on the look you're going for, Roman Blinds are also available with either timber or aluminium battens, which offer you the choice of a casual or more formal look.
When it comes to customised style, Roman Blinds can match almost any room, but selecting the right fabric for the space is important. For a clean and elegant feel to open up the space, a simple white or cream colour is perfect. If you're wanting to create a feature for your room, select a fabric design that's bold, colourful and stands out from your current colour scheme.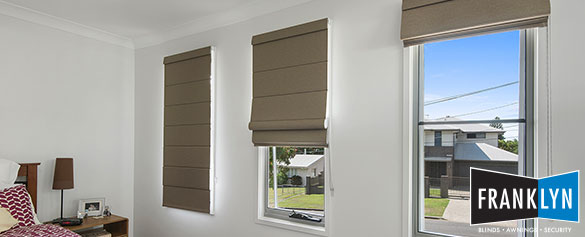 Roman Blinds can be the perfect fit for any bedroom
What blinds can I use in my sunroom? I'm looking for something simple and elegant.
For a crisp and clean look that can blend perfectly into any room, dress your sunroom windows with Roller Blinds. This style of blind offers you an affordable, elegant and unobtrusive light control option that won't detract or overpower the space. Selecting the fabric is an important element when choosing blinds for this type of room, so before you make any decisions, think carefully about what you want the space to become. You have a range of options when it comes to fabrics, from a heavy fabric which blocks out almost all of the light, to a 'sunscreen' fabric which will filter light.
Roller blinds are a perfect fit for any sunroom as they retract neatly away into a cassette. So when the midday heat has passed, just roll them up and enjoy the afternoon sun.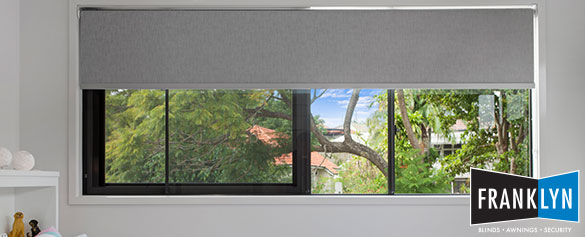 Can you suggest a blind to suit large windows in my living area?
Large windows can pose a problem for some styles of indoor blinds, however Panel Glide Blinds are designed specifically for this purpose. What makes the Panel Glide Blind so unique is the wide fabric panels that effectively reflect and filter daylight. When open, these panels stack neatly behind one another so that your windows aren't obstructed. Sliding the panels into the closed position creates a complete fabric screen providing light control and creating a private space. As these are fabric blinds, you can choose from either heavy blockout or lighter fabrics, depending on the look and feel you're going for.
Older style tracking systems can be bulky and take up too much space, but our roller mounted carrier system is lightweight, slim and discreet so you'll hardly notice it. The panels can also be removed and changed easily, allowing you to customise the look and feel of your space to suit any occasion.
Panel Glide blinds are perfect for large window spaces
Looking for a blind or shutter for our living room, that gives us privacy but still allows light to enter. The room can be a bit dark, so light is extremely important.
Finding the right balance between light diffusion and privacy in a darker room means you'll most likely need a lightweight fabric design. Sheer Elegance Blinds use lightweight fabric, allowing you to alter the light and adjust the level of privacy. This is a great option for spaces which require both privacy and light. Due to their design, sheer elegance blinds soften the light as it passes through the sheer fabric – meaning privacy is retained and light is maximised.
To complete the design, we can colour co-ordinate the cassette with your chosen fabric to seamlessly integrate the window into your overall home aesthetic.
Sheer Elegance Blinds can maximise the light for your space while retaining privacy.
I need blockout blinds to stop light entering my room, what more should I know?
When choosing blinds for your home, be mindful that people select their blinds for various reasons i.e. light control, privacy, heat control and décor. You should be aware that almost all blinds will allow some light to enter from the surrounding edge where gaps or tolerances are necessary.
For those who require a blind to completely blockout every bit of light from entering the room / home, Franklyn offers a full cassette roller blind with side channels. However, you will need to be mindful that you should not open the window for air flow when the full cassette roller blind is completely down.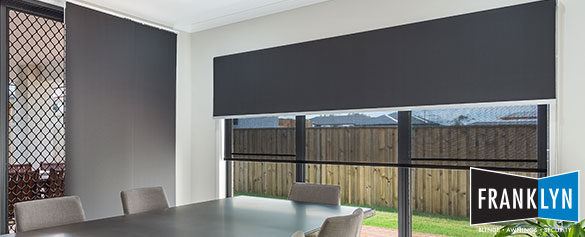 Dual Roller Blinds give you both options to have sheer and blockout fabric to suit your needs.
If you've got a question about blinds, curtains, or shutters get in touch with us here http://www.franklyn.net.au/contact