NUFUSION SHUTTERS:
ADD VALUE TO YOUR HOME AND SAVE MONEY!
Adding value to your home is simple, with Shutters.
When it comes to adding value to your home in Brisbane, most homeowners usually look to the big ticket items for the answer. You could repaint the walls, replace the driveway or even add a room or deck, however these can be extremely expensive and time-consuming additions especially when renovating a home for sale.
Enhancing the look and value of your property doesn't have to cost you thousands upon thousands of dollars, as there are other options out there. Installing quality shutters can revitalise the look and feel of your home, while building value at a fraction of the cost that bigger renovations may attract.
Shutters are a versatile, cost effective option for Brisbane homeowners who are looking to add a point of difference to their home, and can be installed as both an internal and external window covering
Finding the right Shutters for your home.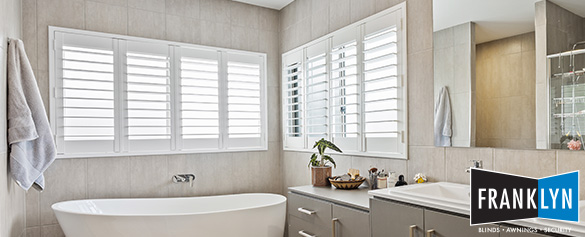 By installing interior shutters, homeowners have the ability to control both light and privacy whatever the time of day. Modern internal PVC shutters are custom made to fit your window opening, and with a range of styles and – they can suit any room in your home.
Franklyn's Nufusion PVC shutters are ideal for damp areas as they are moisture resistant. With our large range of designs, they can be matched to any interior design concept. If you are looking for a more traditional look, try our stylish custom-made timber shutters.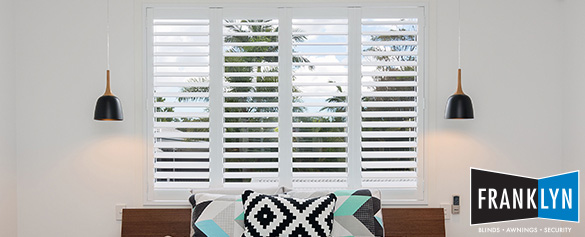 Franklyn interior shutters have easy operation, allowing you to find the perfect balance of light and privacy. You can choose to have full visibility when looking from the inside, and complete privacy still from the outside. The versatility of shutters allow you to partially close one shutter, while leaving the other half open, which is perfect for taking advantage of a cool breeze on a hot summer afternoon.
Shutters can help save you money on your electricity bill.
Installing shutters can have an impact on your home electricity bill as shutters assist in the reflection of the suns heat rather than allowing it into your home, meaning that you'll be able to lower the temperature in any room simply by closing the louvres. While curtains and blinds may block out the light from the sun, they aren't as efficient at blocking heat. By installing PVC shutters, you add an extra layer of insulation that assists with cool air remaining inside, while the unwanted heat remains outside. This combined effect results in less energy usage in keeping your home's interior temperature cool.
Shutters are also a great addition during the cooler months too. In most homes, the majority of the heat is lost due to windows that don't offer enough insulation. By installing PVC or timber shutters, you add an additional layer of protection that keeps the cold outdoors and the warmth inside during winter.
With Franklyn shutters, simply closing them instantly increases the overall insulation of your home, helping to increase the amount of heat that stays within the room and saving you money on your electricity bill.
Choose your style.
There are several operating design options when installing exterior shutters, and selecting the right fit for your home can be tricky. Depending on your area opening size, certain types of shutters may work better than others. Franklyn aluminium shutters can be fitted in fixed, sliding, hinged, or bi-fold configurations, depending on where and how you wish for them to operate, how much adjustability you want, and the look you are trying to achieve in hour home.
Why PVC Shutters?
Franklyn Nufusion PVC Shutters feature a solid stile with 2mm thick aluminium core, and each louvre itself features an aluminium core. PVC Shutters are ideal for bathrooms where moisture is present. Franklyn Nufusion Shutters have a 20 year warranty. For more information on our NuFusion PVC Shutters click here https://franklyn.net.au/shutters/pvc-polymer-shutters/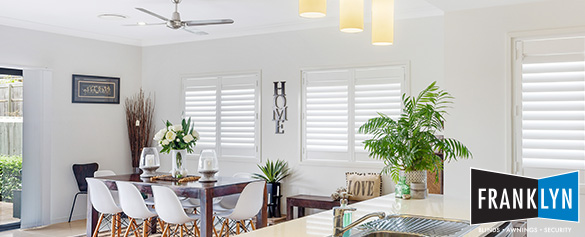 Free Measure and Quote
As part of our commitment to our customers, we offer a free no obligation measure and quote service. Our experienced staff will come to your home and measure your window opening, and can also offer advice on what types of products will work best for your space. We can then provide you with a quote to manufacture and install your shutters.
We often hear of DIY horror stories from customers who wish they have of gone with Franklyn  in the past. Each shutter measurement is different, as each window opening is different and there are no standard sizes. That's why we always recommend to our customers to have their windows professionally measured and installed by our team.
Get in Touch
For more information on Franklyn's entire range of Shutters, visit one of our showrooms at Cleveland, Rochedale, Tingalpa, Carseldine, North Lakes, or Helensvale. Our friendly showroom staff can offer you advice on your next project, and give you the peace of mind only experience can bring.
You can find out more information on the whole range of Franklyn Shutter products here https://franklyn.net.au/shutters/ or by speaking with one the Franklyn specialist staff.
 What about NuFusion PVC Shutter Warranty?
NuFusion Shutters come standard with a 20 year warranty to give you added peace of mind. Franklyn guarantee your shutters will not chip, crack, split or distort and will look as good as new for many years.
Book your free Shutter measure and quote online today at https://franklyn.net.au/organise-a-quote/