SECURITY SCREENS:
WHAT IS ARMOURX AND WHY DO YOU NEED IT?
I'm sure you've heard about Security Screens before, but what exactly is ArmourX?
Franklyn has been a leading local manufacturer of security screens for over 30 years and in 2021 launched their own unique design, propelling them to become one of Australia's strongest security screen manufacturers. ArmourX™ is a Next Generation Security Screen, manufactured in Brisbane by Franklyn.
ArmourX is truly a 'Next Generation' design with more strength, better looks, and affordable pricing!

Over the course of Franklyn's journey to the top of their industry, they've provided thousands of Australian homes with high-quality stainless-steel security screens. With ArmourX™, there are two security screen door options (ArmourX™ and ArmourX™ Plus) featuring an innovative and revolutionary patented design.
The patented keyway locking system is what makes ArmourX™ unique, and strong enough to withstand enormous impacts compared to most other systems. The difference lies in the design, where the 1.0mm 304 stainless steel mesh is folded into a dual layer and secured into place using the locking system. This process provides extreme strength compared to flat sheet systems. This combination of the locking block and anchor ultimately prevents the mesh from being forced out of the frame under extreme and repetitive impact.
Recently, Franklyn had the ArmourX™ Security Screens put through a rigorous scientific test to determine exactly how much force ArmourX™ and ArmourX™ Plus screens can resist before failing. They also tested alternative stainless-steel security screens bought directly from other market competitors.
ArmourX security screens are Australian standard certified.
The difference in performance between an ArmourX screen and other security mesh products on the market is significant, and results showed that competitor screens failed to deliver the same high-level impact resistance as the ArmourX range.

*Independently tested
 
5 Reasons you need ArmourX today!
1. ArmourX™ is a market leader in strength
ArmourX™ is proving to be the next generation residential security screen product on the market. As the recent tests revealed, ArmourX™ security screens are stronger than the Australian standard when it comes to impact resistance. This makes ArmourX™ security doors and windows extremely tough, durable and safe, while giving you peace of mind in your own home.
2. ArmourX™ is value for money
When it comes to adding security screens to your home, the choice can be overwhelming and price can play a large factor in the final decision, and it's not often you actually get the strongest screen at a medium price point. Thanks to the unique design of ArmourX™ the customer can enjoy a more affordable screen and still have the superior protection far greater than other brands. Simply book your free measure and quote today with a Franklyn consultant to find out how easy and affordable it actually is.
3. ArmourX™ is stylish and modern:
Some security doors and screens on the market today are definitely not built with aesthetics in mind, however ArmourX™ is both highly effective and attractive. ArmourX™ security doors and windows come in a variety of standard colours, while also having the option of custom powder-coating in a range of additional colours.
4. ArmourX™ adds value to your home:
Installing ArmourX™ security doors and windows throughout your home is a long-term investment that will pay off should you decide to sell. For some home buyers, whether there is a trusted security screen product like ArmourX™ or imitation security screens in your home, this can be the 'make or break' decision point when it comes to making an offer.
5. ArmourX™ does not imprison you
ArmourX™ keeps intruders out without making you feel like you're locked away. With the unique mesh locking system, ArmourX™ screens still allow full visibility when looking out of your windows or doors. This also means that you get the benefit of maximum light and air flow. Additionally, if you combine ArmourX™ security screens with an Xcape Exit Screen, you can be sure that you and your family can make a quick and easy escape in any emergency.
You can find out more information on the range of ArmourX™ products here https://franklyn.net.au/security/armourx-security-screens/ or by speaking with one the Franklyn specialist staff.
What about ArmourX Warranty?
ArmourX has a 12 year warranty and ArmourX Plus has a 15 year warranty.
All warranties are conditional. For the warranty to be valid, customers must adhere to the care instructions provided by Franklyn. In addition, a receipt providing proof of purchase is required for any warranty claims.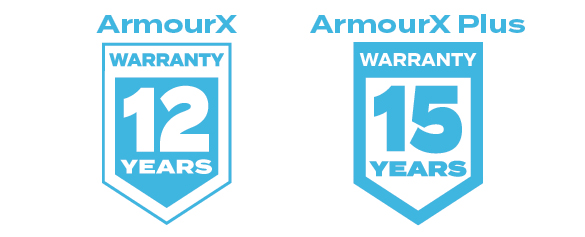 Book your ArmourX free measure and quote online today at https://franklyn.net.au/organise-a-quote/